In vitro fertilization (IVF) in mammals: epigenetic and developmental alterations. Scientific and bioethical implications for IVF in humans
Biological Research
2015
48:68
Received: 3 August 2015
Accepted: 30 November 2015
Published: 18 December 2015
Abstract
The advent of in vitro fertilization (IVF) in animals and humans implies an extraordinary change in the environment where the beginning of a new organism takes place. In mammals fertilization occurs in the maternal oviduct, where there are unique conditions for guaranteeing the encounter of the gametes and the first stages of development of the embryo and thus its future. During this period a major epigenetic reprogramming takes place that is crucial for the normal fate of the embryo. This epigenetic reprogramming is very vulnerable to changes in environmental conditions such as the ones implied in IVF, including in vitro culture, nutrition, light, temperature, oxygen tension, embryo-maternal signaling, and the general absence of protection against foreign elements that could affect the stability of this process. The objective of this review is to update the impact of the various conditions inherent in the use of IVF on the epigenetic profile and outcomes of mammalian embryos, including superovulation, IVF technique, embryo culture and manipulation and absence of embryo-maternal signaling. It also covers the possible transgenerational inheritance of the epigenetic alterations associated with assisted reproductive technologies (ART), including its phenotypic consequences as is in the case of the large offspring syndrome (LOS). Finally, the important scientific and bioethical implications of the results found in animals are discussed in terms of the ART in humans.
Keywords
In vitro fertilization (IVF) in mammals
Epigenetics
Developmental alterations
Bioethical implications
Introduction
Human beings have the capacity to modify the environment and in this way to influence the development and survival of animal species and human beings. In this perspective, one topic that has had increasing importance is the impact that modifications of the environment have on early stages of mammalian development, which are particularly vulnerable to environmental changes.
In 1999 Barker et al. described the relation of maternal malnutrition during pregnancy and the threat of developing certain diseases in adulthood [1]. Greater risk of coronary disease, hypertension, type two diabetes, metabolic syndrome and others have been described. This has been called the fetal origins of adult diseases or the Barker hypothesis [2, 3]. The transcendence of this discovery has been named with the initials DOHaD (Developmental Origins of Health and Disease) [4, 5]. Soon afterwards it was hypothesized that this effect could also occur in the pre-implantation embryo [6–8]. This was confirmed in several studies in rats that showed that malnutrition and hypoproteic diets administered only during the pre-implantation stage resulted in altered development such as low birth weight and abnormal blood pressure [9–12]. These findings were very important to stimulate research on the influence that assisted reproductive technologies (ART) could have on development and epigenetic reprogramming in the pre-implantation period, as these techniques imply great changes in the environment [13, 14]. The major concerns are related to the possible effects that ART may have on normal development in humans. It has been calculated that in developed countries 1–3 % of children are conceived using these techniques [15].
Fertilization of eutherian animals occurs in the maternal oviduct. This is the natural and unique environment to achieve the necessary requirements for embryo life and its early and late development. The embryo conceived in vitro is manipulated and cultured in very different conditions [11, 16].
Conrad Waddington highlighted many decades ago the relevance of the environment in development [17]. He emphasized the importance of studying the conditions that control development that mediate the interactions between genotype and phenotype. Genetics had discovered the laws of inheritance and had explained how different characters are transmitted from parents to offspring. But, Waddington underlined, that there wasn't much knowledge about the mechanisms of development. He named this process Epigenetics, which is now understood as the conditions that control the expression of genes that are highly influenced by environment. A more precise definition is: "The study of changes in gene function that are mitotically and/or meiotically heritable and that do not entail a change in DNA sequence" [18]. This concept has broadened biological research in order to understand how this process can be altered by the environment and thus influence normal development and impact the etiology, susceptibility and onset of adult diseases [19–24]. Epigenetics has demonstrated that normal development does not depend only on a healthy genome.
There is an important epigenetic reprogramming during gametogenesis and the preimplantational period of the embryo, especially in imprinted genes, defined by their parental origin [25, 26]. This period has a sensible window to environmental changes which can alter the process of reprogramming, and thereby affect survival and the early and late development of mammal embryos [27, 28]. The discovery of the epigenetic mechanisms that control gene expression, at a molecular level, has been very useful to understand and detect when there has been an alteration at this level [20, 29]. Some of the mechanisms known today are: cytosine-adenine methylation; histone modifications and the control that different microRNA has on gene expression [24, 29, 30]. In the mid-1990s Sasaki et al., and Tremblay et al. showed that rats produced in vitro carried imprinted gene alterations, especially in the H19 paternal gene [31, 32]. Today we have a huge amount of information, mostly derived from animals, about the alterations that can occur in embryos produced in vitro because of the manipulation and artificial environmental conditions associated with these techniques [33].
It has been discovered that the following processes and techniques associated with in vitro fertilization (IVF) can alter the epigenetic reprogramming of gametes, embryos and normal mammal development [
34
] (Fig.
1
).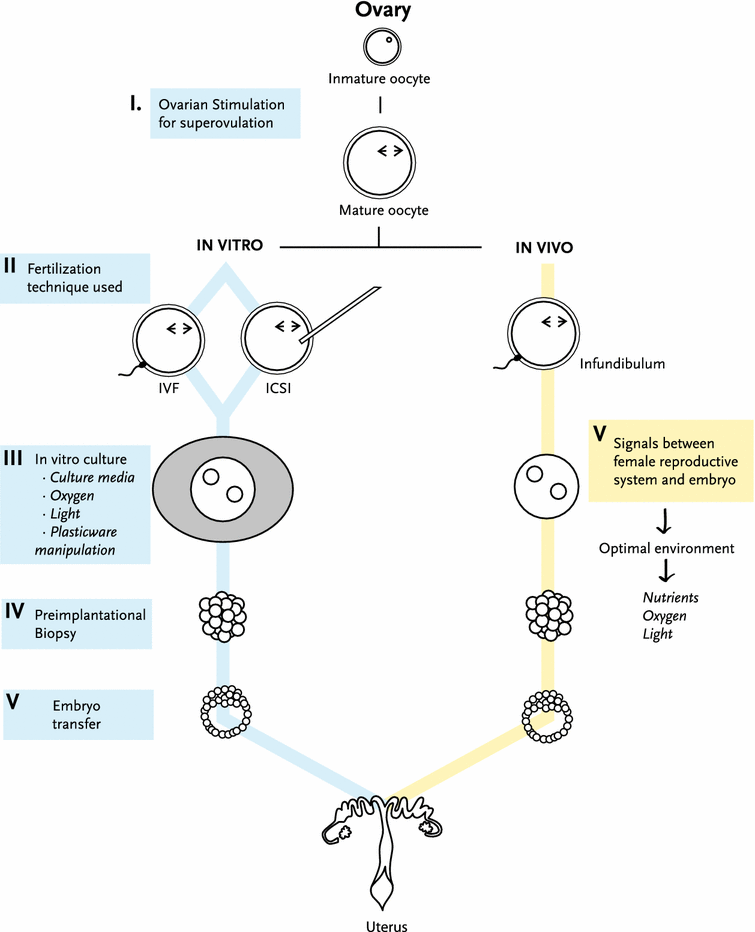 1.

Superovulation and in vitro maturation (IVM) of gametes.

2.

Fertilization technique: ICSI vs IVF.

3.

4.

Embryo manipulation: pre-implantation genetic diagnosis and embryo transfer.

5.

Maternal-embryo signaling during the pre-implantation period.
The aim of this review is to update the currently available information provided by animal studies exploring offspring alterations in the epigenetic profile, development, survival and phenotype associated with the artificial environment in which IVF is performed. We propose that this information has scientific and bioethical implications that must be considered in human IVF/ICSI.
Trans-generational inheritance
A transgenerational effect occurs when the alterations pass through several generations. Evidence shows that epigenetic imprinting could be trans-generationally transmitted, despite the fact that during gametogenesis there is epigenetic reprograming; but some molecular epigenetic elements not related to DNA sequence can resist this reprograming [206]. This has been studied in animals [206]. Some facts related to this "resistance" to epigenetic reprogramming are described in the large offspring syndrome (LOS), such as organomegaly, which could pass to a second generation of individuals [16]. In cryopreserved rabbit embryos it was demonstrated that IVF could alter female reproduction in the next generation [207]. A recent study in mice showed that suboptimal IVC was associated with transgenerational alterations of glucose metabolism and hepatomegaly in the male offspring [208].
Some relevant elements in epigenetic mechanisms related to this process are the following:
Discussion
The general objective of animal reproduction research is mainly to improve breeding, reproductive and productive efficiency in harmony with ecological challenges and animal health [214]. For this purpose one of the essential topic is to study the genetic and epigenetic mechanisms that control the preimplantation embryo development in vivo and in vitro.
From another perspective it must be pointed out that animal studies are important to evaluate the safety of new drugs and treatments as a previous bioethical step before clinical trials or medical innovations are performed in humans [215].
The focus of this review was to update the scientific information concerning the epigenetic alterations produced by the techniques of in vitro manipulation related to IVF in animals and their impact in phenotype, behavior and transgenerational transmission. A substantial amount of research available in animals shows convincingly that ART particularly IVF, produces significant epigenetic modifications, altering the expression of different genes, particularly of imprinted genes that have a major role in normal animal development. The consequences of these perturbations on the outcome of the offspring raises important questions not completely resolved that need to be addressed in order to clarify them. On one hand, it is quite difficult to isolate the degree of influence of the different factors implicated in the ART technique, such as: Superovulation and IVC of gametes, ICSI, embryo culture and absence of maternal embryo-signaling. The existing information centers especially on the importance of embryo culture, which is essential to perform IVF. On the other hand, effects on the phenotype have been reported consistently in many studies and the finding of trans-generational effects in some studies is an interesting and important datum which needs more investigation. The most significant and clear fact is the LOS which mimics the BWS in humans.
These results obtained in animals rise scientific and bioethical questions of how this evidence should be considered on the increasing use of ART in humans [49]. Studies in animals, when possible and necessary are a bioethical imperative to assess the safety of new treatments and procedures; these are made before introducing the new techniques in medical praxis [216, 217]. However this process, as it is performed today, did not occur with human IVF, due to reasons that are beyond the scope of this review.
Although extrapolation of the results of animal experiments to humans has limitations due to differences among mammalian species, they frequently provide light on what may also happen in humans and are definitively valuable to orient new research.
Ideally, similar experiments as the ones performed in animals, could be done in humans and answer crucial questions. But there are major ethical restrictions to perform such epigenetic studies in human embryos. Most likely, in the near future the analysis of the epigenetic profile of children and adults born by IVF will be possible and this will allow access to information and consequences of this technique that at present are mostly unknown. We agree with several authors in terms that it is mandatory to have better human epidemiological studies and that efforts should be made in order to have a clinical follow up during the whole life of every child born by IVF, because epigenetic alterations in the early stages of development can be expressed later in adult life as different pathologies [218]. This is similar as the discoveries of Barker and others in relation to the effects environmental conditions of intrauterine life in pediatric and adulthood diseases.
Finally, we think that a major concern is how to give parents who seek IVF techniques a clear, objective and prudent information of the evolving knowledge of the possible risks involved in this procedure [219].
Declarations
Authors' contributions
PVJ conceived and design the study. Coordination of the group. Writing the first draft. II, AR participated in the search and resume of articles and evaluation of its quality and helped to draft the manuscript. JG participated in the search and resume of articles and evaluation of its quality. RM, MJS participated in the design of the study, in evaluating the molecular aspects involve in the revision and in reviewing the draft. All authors participated in the bioethical discussion. All authors read and approved the final manuscript.
Acknowledgements
This work was partly financed by Grants VRI-PUC 1573/DPCC 2012; 4467/DPCC 2015; and 1150352 (to RDM).
Competing interests
The authors declare that they have no competing interests.
Open AccessThis article is distributed under the terms of the Creative Commons Attribution 4.0 International License (http://creativecommons.org/licenses/by/4.0/), which permits unrestricted use, distribution, and reproduction in any medium, provided you give appropriate credit to the original author(s) and the source, provide a link to the Creative Commons license, and indicate if changes were made. The Creative Commons Public Domain Dedication waiver (http://creativecommons.org/publicdomain/zero/1.0/) applies to the data made available in this article, unless otherwise stated.
Authors' Affiliations
(1)
Bioethical Center and Department of Pediatrics, Faculty of Medicine, Pontificia Universidad Católica de Chile, Santiago, Chile
(2)
Department of Physiology, Faculty of Biological Sciences, Pontificia Universidad Católica de Chile, Santiago, Chile
(3)
Department of Cellular and Molecular Biology, Faculty of Biological Sciences, Pontificia Universidad Católica de Chile, Santiago, Chile
(4)
Bioethics Center, Universidad Finis Terrae, Santiago, Chile
Copyright
© Ventura-Juncá et al. 2015